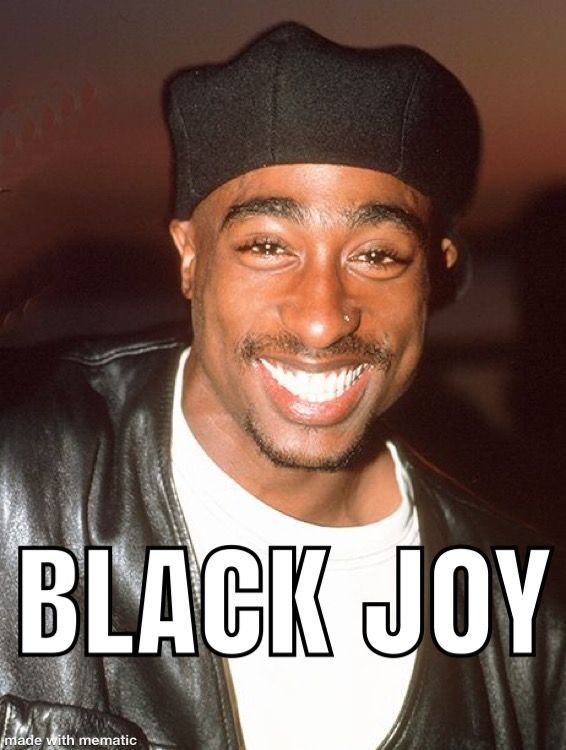 TAHIRA introduced the concept of Black Joy to me about a year ago, and it has been sitting with me ever since. To a degree, the idea of the "angry black man" might be a self-fulfilling prophecy. Images of Huey and Malcolm ready to go to war for their freedom are inspiring and justified. America forced black folks to sing the blues and rap "Fight The Power", and I've realized the people and music that I admire most are always full of anger and pain. What's a soul singer without "pain" in their voice? Hell, one of my favorite Tupac songs is called "Pain". Unfortunately, it's an integral part of the black experience; to the point where I sometimes don't feel complete as a singer because I don't have real pain in my sound. 
But here's the thing…. The natural state of black people is JOY! Listen to the harmonies from South Africa; despite all they've been through, those folks still have joy in their heart, and soul, and sound. Pick any country in Africa and you will find people who smile when they dance and sing. Meanwhile, our biggest cultural export, Hip-Hop, is full of artists who literally won't smile because that will make them look soft, vulnerable, or corny. And listen, minorities in America have every right to be violently angry, but we cannot forget our natural state. Black people are naturally joyful people. We can't let the American experience ruin our true souls. Our smiles light up rooms…our generosity is boundless…our ancient melodies soothe babies…our drums play to the beat of joy. 
Within my own music there is anger, pain, and frustration—but I am very focused right now on creating music that uplifts people and brings us back to our natural state. I had a wonderful experience last week where I created a melody for a group of people at a conference, and I watched that melody bring true tears of joy to the eyes of those who were present. I realized that my ability to bring joy is needed just as much as is my ability to tell gut-wrenching stories like Red Jeans. As long as there is injustice, I will scream and shout our collective blues, but I will be making greater efforts to give people a space to release the chains of anger and hate so that we can exist in the manner in which we were intended. I'm not religious, but my Gods live in the light in spite of dark forces. I'm no God, but I will continue to keep striving for an unreachable status in the hopes that we gain true freedom. Freedom to exist in my authentic form; the freedom to live on in joy. Let's ride the freedom train together!